London Short Film Festival - UK Premiere
They met under a ceiling of sky (2020) in New Shorts: Experimental: Void Mirror
Sunday 16th January 2022, 3pm, ICA, London
London Short Film Festival 2022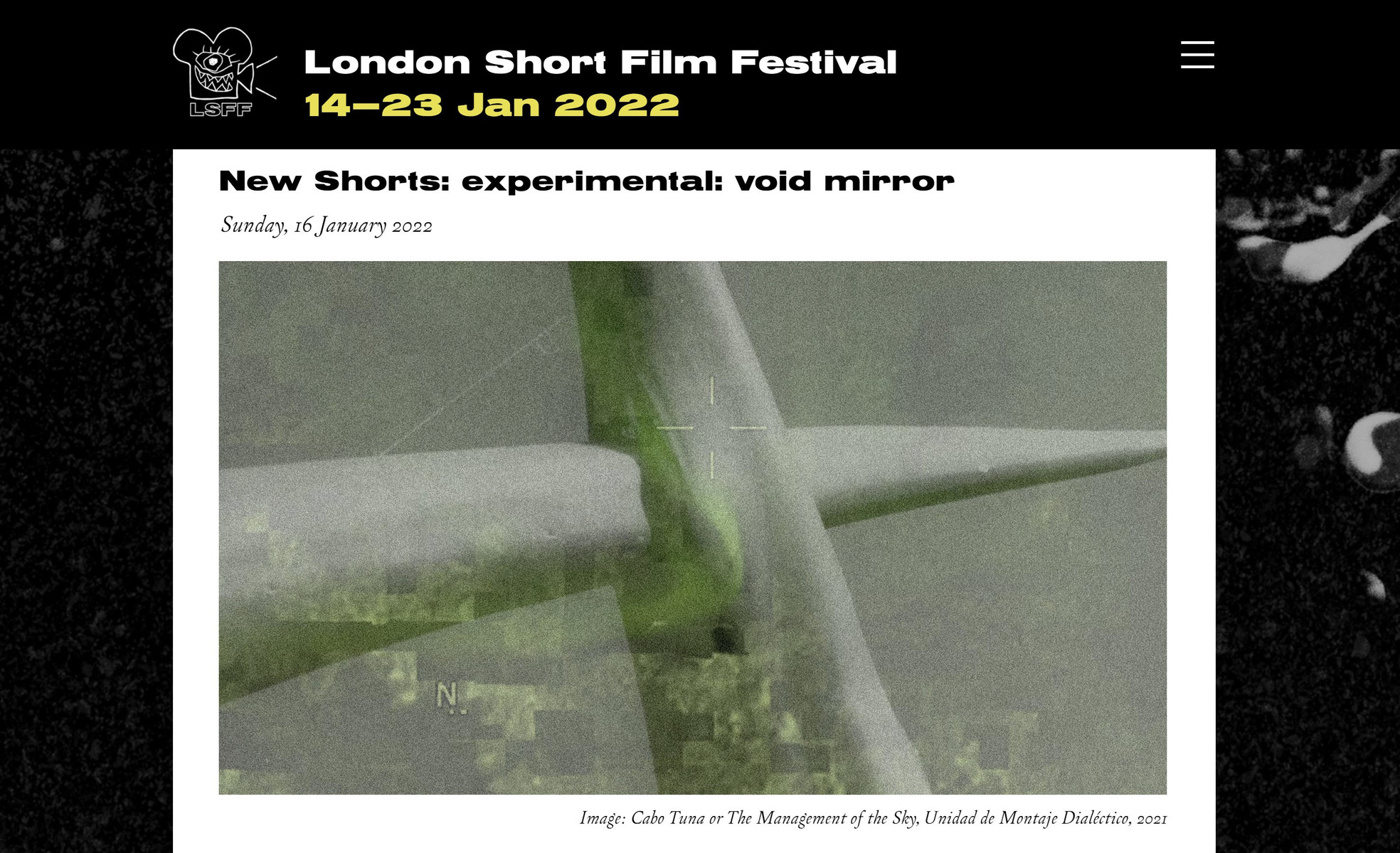 A learning algorithm hallucinates flowers while Andra8 lives a solitary life in the virtual void. Automated sensory enhancement reveals the prevalence and proliferation of data. These works confront our interaction with (and perception of) new technologies, acknowledging the digital realm as a reality.
Exploring the paradoxes and rules within the online wellness movement and artificial ecologies, these shorts overlay archive, sonic landscapes and digital materials. In a strand that always champions innovative visual forms of storytelling, we select new work from artist Alison Nguyen (My Favourite Software is Being Here) and Wei-Chia Wu (Erica).
Curated by Emma Bouraba
Programme:
Scientists now discover new evidence to reconstruct the ecology of A.D.2021, dir. Wenqing Yao, China 2021, 4 min.Mode Collapse, dir. David Witzling, USA 2021, 4 min.Cabo Tuna or The Management of the Sky, dir. Unidad de Montaje Dialéctico, Mexico 2021,13 min. In no Rush to Get Anywhere, dir. Pepe Sapena, Spain 2021, 13 min.darkness within darkness, dir. Chia-Yun Wu, UK 2021, 6 min.Enough, dir. Andy Sowerby, USA 2021, 2 min.Erica, dir. Wei-Chia Wu, Taiwan 2021, 5 min. They met under a ceiling of sky, dir. Catriona Gallagher, UK 2021, 21 min.my favourite software is being here, dir. Alison Nguyen, 2021, 20 min.